Today I wanted to share a pretty cool story with you.
Over the Summer, Emily and I bought our first house together. It was something we'd talked about doing at some point in the future, but the process from starting to look to closing happened FAST. Like 6 weeks fast.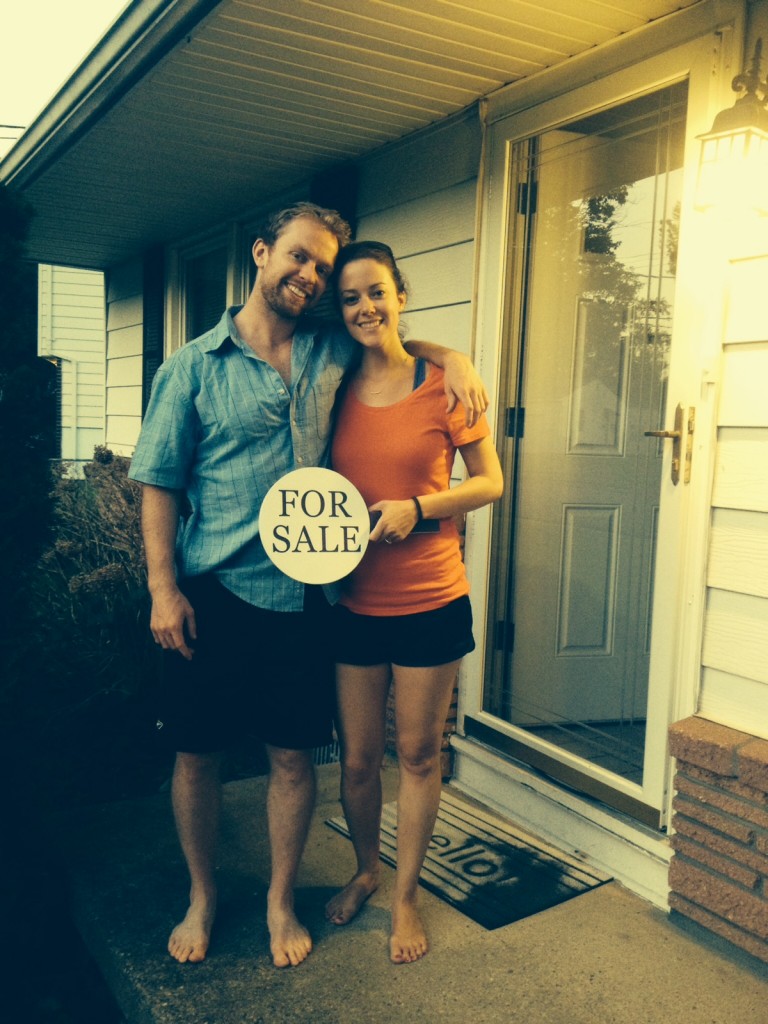 Holding each other up after a long move in day.
Because we moved in July, the middle of the hockey off-season (e.g. my busiest time of year at work), we didn't move in as much as just drop boxes inside of our new house and then carry on with our lives.
When the dust finally settled on processing all the testing data from our off-season hockey group, the pre-season testing/programs from the Flyers Junior Team, and the two camps I had with the US Women's National Team, I was finally able to spend some time working on the house and digging through some of my boxes.
In doing so, I came across something awesome that I forgot I had.
When I was a kid, my older brother (Jim) and I used to write letters to our favorite professional hockey players. In the letters, we'd always ask for advice about becoming better players, and what they thought really helped them along their career. Of course, we also politely suggested that getting an autograph would be cool too.
As you can imagine, we didn't get any letters back, as those guys are inundated with fan mail and don't have the time (and probably the desire) to personally respond.
What Jim and I were both pretty surprised about, though, was that we almost always got an autographed picture back. Over the years, we built an awesome collection that included guys like Wayne Gretzkey, Mario Lemieux, Eric Lindros, Paul Kariya (my favorite player growing up), Joe Sakic (my brother's favorite player), Mats Sundin, Teemu Selanne, John LeClair, Pavel Bure, Valeri Kamensky, Patrick Roy, and many, many more.
It was sweet. Those were always the best days. We'd run home from school and check the mailbox everyday for weeks after we sent out our letters.
Growing up, I always wanted to go to the University of Michigan. I don't know why (it as the helmets), but I just thought that the team and school were awesome. In fact, my first plane trip ever was when my mom took me to Ann Arbor to visit for my 10th birthday. Somewhere I think I still have the silky yellow jersey I got that year too (the best present ever)!
One day, I looked up the University of Michigan hockey roster and wrote every player on the team an individual letter letting them know I was a huge fan, wishing them luck, asking for advice on how to become a Division 1 hockey player, and, of course, requesting an autograph.
As a quick aside, the practice of writing to people that have attained what I aspired to attain, which my brother taught me, has stuck with me to this day. While I don't write asking for autographs anymore, since entering the field I've reached out to a TON of strength coaches, physical therapists, researchers, coaches, and agents to introduce myself, ask for advice, and/or thank them for the help their writing/products have provided me. This was ultimately how I connected with guys like Mike Boyle, Mike Potenza, Eric Cressey, Sean Skahan, Charlie Weingroff, and a number of other guys that have had a huge impact on my career.
…getting back to Michigan.
The cool thing about the experience with Michigan is that a number of the players actually wrote back, including players like Brendan Morrison and Mike Knuble that went on to have great NHL careers.
First, I think it's a great gesture and testament to the character of those players. I was 9.  It would have been easy for them to just laugh at the letter and throw it out. But they didn't. They took the time out of a schedule packed with schoolwork, training, practicing, travel, and games to write back.
Second, I got great advice that had a huge impact on my motivation and work ethic at a young, impressionable age. And frankly, I think a lot of those characteristics have stuck with me to this day.
In digging through one of the boxes, I found a letter from Peter Bourke, a defensemen on the team.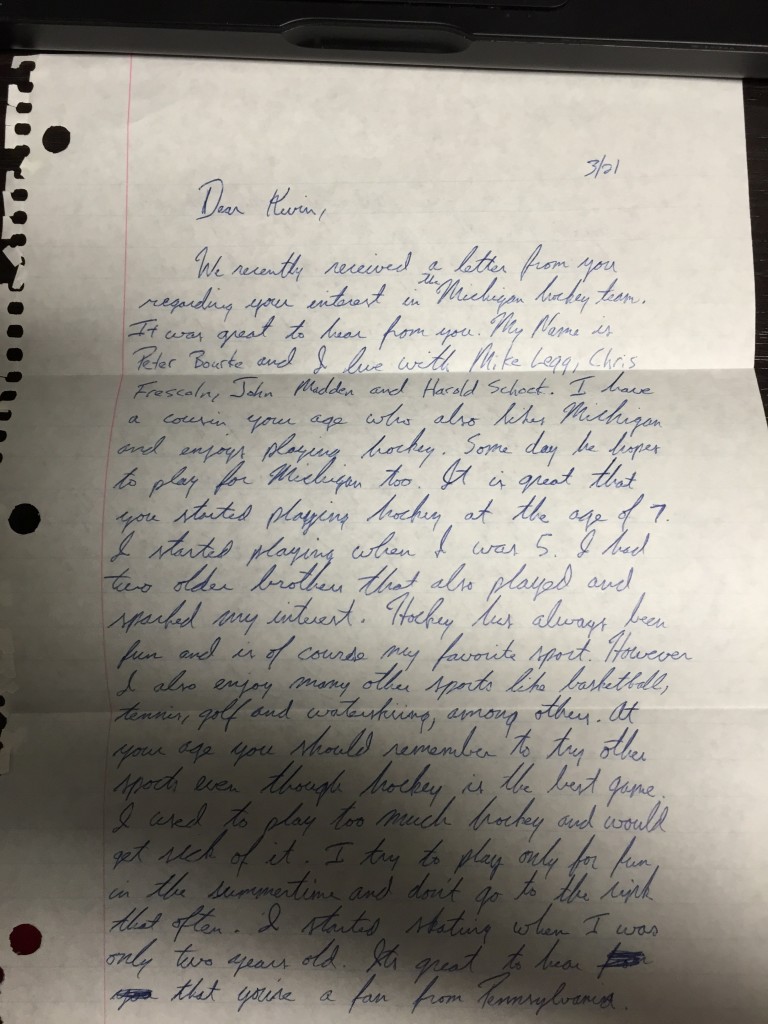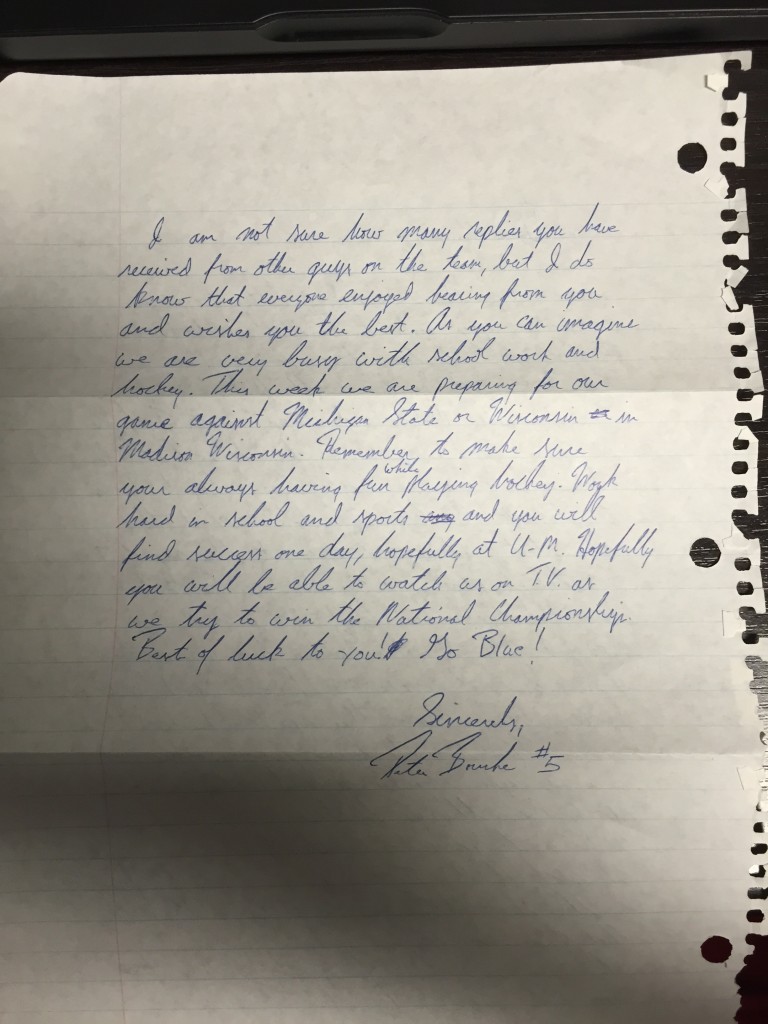 The Best Advice I've Ever Gotten
I reread the letter when I found it and it's amazing how much good advice there is that is extremely relevant to youth athletes today.
With that in mind, I wanted to share a few things that Peter told me when I was 9, that I think will really help the youth athletes you know:
"Hockey has always been fun and is of course my favorite sport. However I also enjoy many other sports like basketball, tennis, golf and water skiing, among others. At your age you should remember to try other sports even though hockey is the best game."
"I used to play too much hockey and would get sick of it. I try to play only for fun in the Summer time and don't go to the rink that often."
"Work hard in school and sports and you will find success one day."
What This Means To You
Playing multiple sports is essential at young ages, not only to avoid burnout, but also to maximize the athleticism necessary to become an elite hockey player at older ages.
Athletes need an OFF-season. This is an especially important note today as the trend is continuing to move toward year-round competition and an increase in competition at the expense of preparation and restoration.
Hard work is inherently valuable. If you work hard and don't accomplish your goals, you'll never have to live with the regret of knowing that you may have achieved your goal if you just put forth a little more effort. Sports provide a great opportunity for kids to see how their hard work translates to accomplishments (even small ones like scoring a good goal in practice), which will ultimately help cultivate the character needed to be successful when they make the transition to the "real world". Bottom line, developing the habit of working hard toward your goals will pay dividends in every component of your life.
Hearing these things from an athlete I looked up had a profound impact on my life.  Hopefully these words can do the same for you.
To Peter and the rest of the University of Michigan team, THANK YOU for taking the time to write back to me, and any other young kids that reached out to you. You truly made an impact on my life.
To your success,
Kevin Neeld
HockeyTransformation.com
OptimizingMovement.com
UltimateHockeyTraining.com
Please enter your first name and email below to sign up for my FREE Athletic Development and Hockey Training Newsletter!
Get Ultimate Hockey Transformation Now!
Year-round age-specific hockey training programs complete with a comprehensive instructional video database!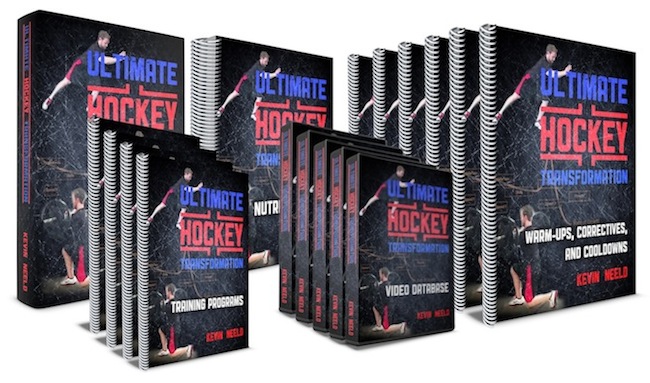 "Kevin Neeld is one of the top 5-6 strength and conditioning coaches in the ice hockey world."
– Mike Boyle, Head S&C Coach, US Women's Olympic Team
"…if you want to be the best, Kevin is the one you have to train with"
– Brijesh Patel, Head S&C Coach, Quinnipiac University