Before we jump into what's been going on at Hockey Strength and Conditioning, I just wanted to remind you to check out my last post for some great gift ideas for the hockey enthusiasts in your life: Hockey Development Present Ideas
Sean Skahan got things rolling this week with a sample program he used to help a player come back from a low back injury. As I've mentioned in the past, I'm always interested in the way other successful coaches write programs because it provides incredible insight into their overall training philosophies. Sean did a good job of providing a few "qualifiers" to his program in the text. In the internet age where people are critiquing programs without a clue of the context in which they're delivered, I think the extra information is beneficial in that it gives you a bit of background information on what led up to it. You can check out his article here:
Click Here >> Lower Back Reconditioning Phase 5 from Sean Skahan
I also added an article/video combo. A trend that I'm commonly seeing in our baseball and hockey players at Endeavor is that many players have a difficult time retracting and depressing their scapulae (shoulder blades) during pulling movements. Even more disconcerting is when these athletes fail to maintain this scapular position during pressing movements. The video in the article is an excerpt from one of our Endeavor staff meetings where I walk our staff through what the possible causes of this are and what can be to alleviate it. The article adds some valuable information as to the implications of this movement dysfunction and how to "prescribe" and monitor a stretching protocol. Check it out at the link below:
Click Here >> Preventing Shoulder Injuries II: Pec Minor Assessment and Stretching from me
On Wednesday I mentioned that I'd hook you up with a copy of my Ultimate Hockey Development Coaching Program if you signed up for a 1-year membership to Hockey Strength and Conditioning. In keeping with the holiday spirit, I'll extend that offer through the new year. A membership to Hockey Strength and Conditioning is an incredible value in itself, but I always like getting free stuff (I assume you do too?).
You can listen to the 14 Coaching Calls with some of the hockey development industry's top experts on your drive in and out of work or while you shovel! Just send me an email after you've registered with your name and login id and I'll shoot you over a download link after I confirm.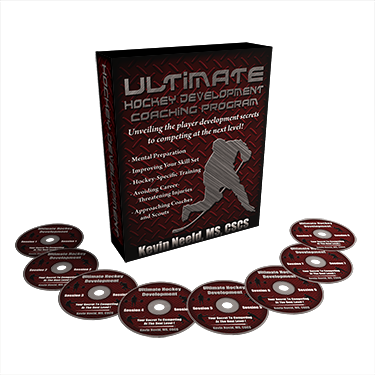 Click the link below for more information about Hockey Strength and Conditioning! See you on the inside!

To your continued success,
Kevin Neeld
P.S. Remember, it's only $1 to try for the first week. You will never find more hockey training content anywhere for $1…trust me (I've looked!).
Please enter your first name and email below to sign up for my FREE hockey training newsletter!