I remember the anxious anticipation I used to feel leading up to Christmas when I was younger. The holidays have come to take on a different meaning as I've gotten older, but then, it was all about getting new hockey stuff. Whether it was new gloves, new pants, a new jersey, or new rollerblades, I almost always strictly wanted something that would help make me a better player or replace old gear that I had bought myself. Somewhere I have a picture of me as a little porker, fully clothed, wearing my new hockey pants and flexing (a hockey strength and conditioning coach in the making); if I can dig it up I'll throw it up on here.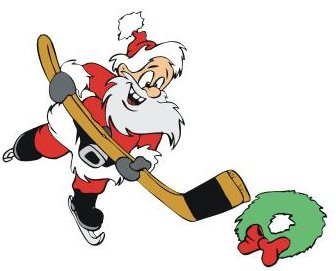 Santa's shooting technique is eerily resemblant of Mark Messier's
One of the things I love so much about the hockey community is how passionate everyone involved is. I've found that, as much or more than any other sport, hockey players, parents, and coaches are always looking for ways to get better. This, in combination with the rapid growth of the sport over the last decade, has done wonders in improving the quality of the game at all levels.
With the Holiday Season upon us, you may be in a rush to finish up your shopping for the hockey enthusiasts in your life. With that in mind, here are a couple recommendations:
For the Players:
Because my focus has been primarily on the training side of things over the last few years, I don't talk very much about skill development. Many are surprised to know that this is actually where a lot of my background originated-running on-ice power skating and puckhandling clinics. One of the most overlooked aspects of hockey training is how much improvement a player can make in his/her hands from spending some time handling a puck or ball and taking a few hundred QUALITY shots everyday. The key is to find the right equipment to do so. I've been really impressed with what HockeyShot has to offer. Go to the link below and check out the "Top 12 Must-Haves" under the Hot Gifts tab on the left. A good net and shooting board allow you to bring the feel of a rink anywhere you want. I also recommend picking up one of the stickhandling balls in the Stocking Stuffers section.

Click Here >> HockeyShot: Your #1 Source for Hockey Training Aids!
The thing that most consistently limits a player's performance is how they fuel themselves. From talking to hundreds of players over the last several years, hockey players aren't able to consistently identify any "good" foods except for chicken. Essentially, the idea of pre-, during-, and post-training/competition meals are completely lost on them. Generation UCAN has a simple, and extremely effective solution to this problem. Their SuperStarch drinks are perfect for pre- and during- training, practices, and games, and their SuperStarch/Protein drinks are prefer for afterward. I highly recommend picking up a case of each. They have a special deal right now offering 25% off all their products, but only through the link below.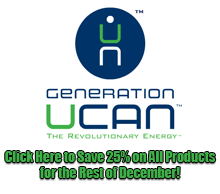 Click Here >> Generation UCAN Sports Drinks

For Parents and Coaches
There are countless products out there that may appeal to you, many of which I've talked about in the past. Having said that, I still think the #1 thing every parent and coach should do is watch Mike Boyle's presentation from USA Hockey's ADM conference. It won't cost you a dime, and will have a profound impact on what you do with your sons/daughters/players. The general feedback I've gotten from parents that have watched it so far is "I can't believe how wrong of an approach I've taken." This presentation address things ranging from whether or not players need to play in "prospect camps" (which many parents push their kids to play in for fear of not getting "noticed") to what players should be doing from a training standpoint to give themselves the best chance of success (not what most coaches have their youth teams doing). You can watch the entire presentation for free here:
>> The Truth About Developing Elite Level Hockey Players <<
Strength Coaches, Trainers, and Sports Medicine Professionals
One thing I've noticed over the last year is that it's easy to get busy and let continuing education stuff slip under the radar. Many strength and conditioning coaches work in excess of 10 hour days on a regular basis. In an effort to keep up with current trends in hockey training, it's important that continuing education isn't ignored. In an effort to maintain some semblance of a social life, it's important that you only look to the best resources for this information. In this regard, HockeyStrengthandConditioning.com is the top resource for hockey training information on the internet. The diversity of the contributors allows for great information on new exercises and training progressions, injury prevention and rehabilitation techniques, coaching cues, nutrition and supplementation, and more. Even better, the contributors aren't "internet gurus"; they all have real-world experience developing hockey players (many at the NCAA D1, Major Junior, Olympic, and Professional Levels)! A year-membership makes a perfect gift!


Click Here >> Hockey Strength and Conditioning

As an added bonus (and incentive), if you sign up for a 1-year membership by tonight at midnight (12/15), I'll throw in my
Ultimate Hockey Development Coaching Program
as a free gift. You can listen to the 14 Coaching Calls with some of the hockey development industry's top experts on your drive in and out of work or while you shovel! Just send me an email after you've registered with your name and login id and I'll shoot you over a download link after I confirm.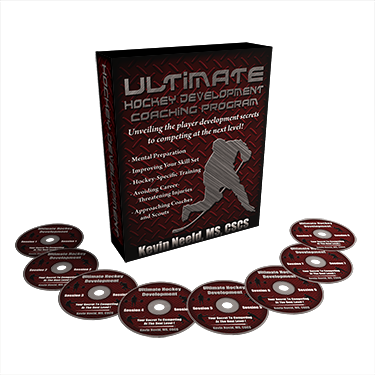 That's a wrap for today. If you have any questions about the things I've mentioned here, feel free to post a comment below and I'll get back to you.
To your success,
Kevin Neeld
P.S. Forward this along to your friends, family, teammates, and coaches…and hurry, shopping time is running out!
Please enter your first name and email below to sign up for my FREE Athletic Development and Hockey Training Newsletter!