Last Tuesday I got a picture message from a friend of mine at the Flyer's game. The Flyer's were airing another one of the "Fit as a Flyer" video segments I filmed with their Strength and Conditioning Coach Jim McCrossin.
Coach McCrossin and I filmed 12 video segments of common exercises or exercise progressions that we use with our hockey players. This wasn't the first time a friend sent me a picture. Check this one out from the first segment they ever played!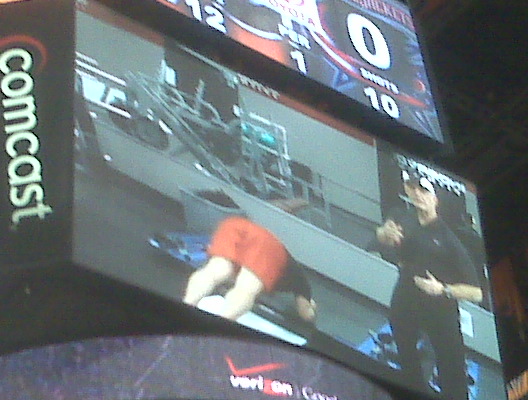 You guessed it. That's my big red ass sticking up in the air. Flattering, I know.
Needless to say, I was somewhat surprised when I got THIS picture on Tuesday: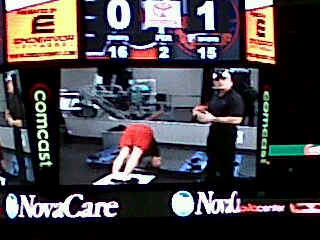 The fans have spoken. Years of glute bridges and deadlifting has won over an entire city of hockey fans:

Yep. That's the ONLY explanation.
Every time I post videos I get a great response from you. Videos are a great way for you to learn new exercises and watch how they're supposed to be performed. I have videos over 230 hockey training videos up at my Ice Hockey Training site that you can get access to for only $4.99/month. Let's be honest here: they're basically free. $5/month is nothing. Many of the exercises I have videos of I've spent thousand of dollars and countless hours on books, DVDs, seminars, and volunteering to learn. Some I've never seen anyone do except us at Endeavor. Since my new hockey training expert site has officially merged with HockeyStrengthandConditioning.com (and the videos haven't been transferred yet), the ONLY place you can get access to these incredible videos is here: Hockey Training Videos
Go subscribe to my Hockey Training Videos section now. If you don't feel like you're stealing from me by getting so much info for some cheap, then just cancel. You can cancel at any time, no questions asked!
To your continued success,
Kevin Neeld
Please enter your first name and email below to sign up for my FREE Athletic Development and Hockey Training Newsletter!