Breakaway Hockey Speed
In case you missed this post, check out the most exciting change to hit hockey training ever. This site will be BY FAR the best hockey training resource ever created, and unlike books or dvds that quickly become outdated, this one will ALWAYS be packed with current information. Read the post below:
The Ultimate Hockey Strength and Conditioning Site!
Speaking of hockey resources, I'm officially releasing my new hockey-specific speed training manual "Breakaway Hockey Speed".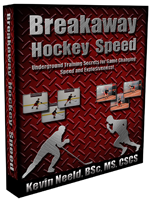 Breakaway Hockey Speed outlines the exact speed training methods I've used with hundreds of hockey players to help them DRASTICALLY improve their speed and develop the game-changing speed that catches the eyes of coaches and scouts and wins games.
Inside Breakaway Hockey Speed, you'll discover:
– Why your speed training rest intervals could be killing your progress
– How much time you REALLY need to spend on speed training
– How to incorporate speed training into your training program
– The power of Dynamic Starts and Transitional Speed Training Drills
You'll also get EXCLUSIVE access to videos of the 6 Linear Speed Drills and 15 Transitional Speed Drills that will be the foundation for your speed training programs! You won't find these videos ANYWHERE else (not even youtube!).
You can download Breakaway Hockey Speed AND get LIFETIME access to the Breakaway Hockey Speed training videos for only $9.97! The price may jump any day now so take advantage of this offer now!
Click Here to Develop Breakaway Hockey Speed Today!
Please enter your first name and email below to sign up for my FREE Athletic Development and Hockey Training Newsletter!
Similar Posts: